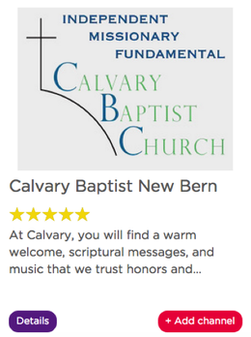 Watch Calvary Baptist Church on your TV!
Along with watching online, you can now watch Calvary Baptist Church on Roku. What is Roku?
The
Roku Streaming Player
(or simply Roku) is a series of set-top boxes manufactured by
Roku
, Inc. Their streaming device gets data (video) via a wired or Wi-Fi connection. Roku partners provide content in the form of easy to access channels.
What does this mean for me?
Calvary Baptist Church messages are now available on our own Roku channel. This means you can watch Services LIVE or video on-demand
ON YOUR TELEVISION
throughout the week, without the need of a computer.
After installing your device, search for
Calvary Baptist New Bern
on
Roku's channel store,
and select
Add Channel
. The channel is free to add and use. Once added, it will appear on your Roku channel list.
Roku's are inexpensive,work on most current televisions and offer great video on-demand viewing. Add our channel to your lineup and tell your friends!
---